Life on The Yealm Wildlife photograph competition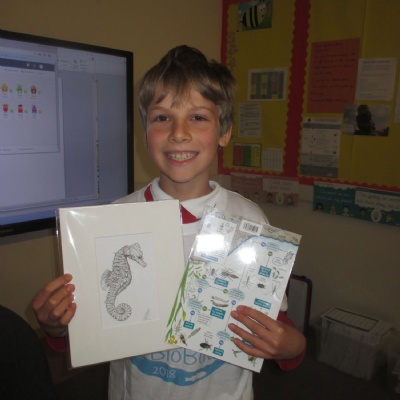 Congratulations to Asher who won 1st prize in the U12 section of the Life on The Yealm Wildlife Photograph competition.
On Saturday 13th October, the results of the Life on The Yealm Bioblitz were on public display in the WI hall in Newton Ferrers. Also on display were the winning entries in the Illustrated map and Wildlife Photograph competitions. Well done to all the children who entered and congratulations to Asher in Pine class whose photograph of a Small Copper butterfly on an Ox-eye daisy won first prize for the U12 section. Asher was presented with a beautiful picture of a seahorse, a Bioblitz tee-shirt and a wildlife ID guide. Asher's prize-winning photograph will now be on display in the library at The Marine Biological Association in Plymouth.